How to crack word 2013 document password. Microsoft Office 2013 crackable, so look to Office password recovery 2019-02-20
How to crack word 2013 document password
Rating: 6,8/10

295

reviews
Can I crack a password protected Microsoft Word file?
You probably should look into a paid tool if getting this document open is important. Step 3: Select one attack type by clicking the drop-down button. On a very fast computer 10Petaflops it could take up to 3. I have tried your suggestions several times using WinZip and 7Zip but I get errors with both. All you may need for now are two basic controls: Full disk encryption on workstations and proper network share and file permissions may be all you need for now. Use the Excel post as a guide for disassembly and the instructions in this post for what to change.
Next
4 Free Word Password Recovery Tools
If you do not know or remember any thing about the password, select Brute-Force, which will try all possible password combinations to recover your Word password efficiently. Thus when it comes to recovering the password then make sure that you use safe methods and ways with the help of this word password recovery tool. . This free solution might do the trick. I am aware that removing password protections is a sensitive topic. Then, modify password is removed.
Next
Crack Word 2013 Password
Well, password-protection scheme presumably employing stronger hashes and encryption keys. On the latest update of the tool there was a significant addition that did not get the buzz that it should have created. For Dictionary Attack: You can add tens of thousands of possible password combination in a notepad document, then import to program, the program will search your password in the list. However, it can be a real pain if you need to edit or change a document and either don't have the password or have forgotten it. Step 4: Click the Start to start cracking document password. GuaWord can guarantee the Word password removal because it actually decrypts the password directly instead of attacking the file with endless character combinations. These tools can be used in another positive way -- for security testing.
Next
How to Crack/Hack Password Protected Microsoft Word Documents
Select the option that you want to. Considerations If someone sends you a password-protected Word document, chances are good there's a reason for the lock. Important note: This is not a guide on how to install and use hashcat in general. Someone sends us a Word document or Excel spreadsheet that they're expecting us to open and edit, but one of those pesky and often inadvertent passwords is getting in the way. My suggestion is you re-create the document. How to Remove Modify Password from Word Document If your document was protected with a modify password, you cannot edit its content.
Next
Can I crack a password protected Microsoft Word file?
To recover Word document password: 1. Once there is a protected password set on the Word document, no one can open it without that password. Dictionary attack type: This option can quickly find the password from an in-built or customized dictionary. Just press Ctrl+C to end the script. Can you please suggest a fix for this? For John the Ripper Instructions, check this out: For Hashcat Instructions, there is a very nice tutorial here: For a quick reference, here are the commands: python office2john. Sometimes businesses use them to protect core templates and sometimes they're in place to ensure marketing materials aren't edited before they go live.
Next
How to edit a password protected Word document
Why do you need to use Kali Linux? From a standard point, most of us only use a few password combinations for convenience, such as birthday, short names, pet name, etc. Make sure to delete only one closing bracket per opening bracket. Due to the number of possible combinations of letters, numbers, and symbols, a brute force attack can take a long time to complete. You also can pause and save the recovery process, and then you can resume it the next time start. However, if you tried your best to do this and still didn't work, then you should have a look at the solution 2. What's the big deal, you say? Save the document in whatever format you wish; the password protection will never return unless you turn it on yourself.
Next
Microsoft Office 2013 crackable, so look to Office password recovery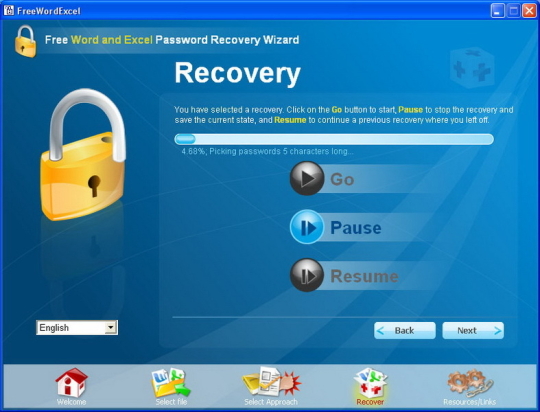 I can understand password protecting a. Using Elcomsoft's Advanced Office Password Recovery to crack a password-protected Office 2013 Word document. Import the matching private key to the certificate in the Windows Certificate Manager following the Certificate Import Wizard. The original person who sent it is not available or can't remember the password, and you need to move forward. Passwords in business applications such as Access, Excel, PowerPoint, Project and Word are all fair game.
Next
How to Crack Passwords for Password Protected MS Office Documents
With that password, you can access to encrypted document and remove password from document with ease. If you have noted your password on a document, use it to create a password dictionary, and select the Dictionary attack type, which will try all the passwords on the dictionary to find out your Word password instantly! Word on Your Computer First of all, you need to download and install Word Password Unlocker on a working computer which stores your locked Word files, then run the program. Audio should be disabled to have auto play. Brute force attack: Try out all the possible combinations of password and then try to crack it. Once you can see the file extension of your Word Document, change the file extension from. When the password has been regained, you can copy it from the box and paste in the required dialogue box. Here is my story: 1.
Next